If you're enjoying this site, the latest Instagram tips with InstaGalactic or conversations from the INfluence podcast, there are a few ways you help me continue to put so much time and effort into these projects.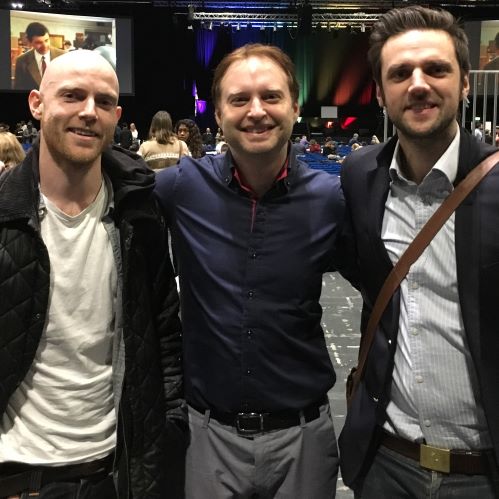 The easiest and most direct way to support this site is through a contribution through this link.
Anything you donate there will go straight to me and I'll give a huge thank you across Facebook and Instagram (and probably to my list as well)!
.

If you're looking to get more leads, clients and customers for your business, you can always work with me directly one-to-one on a consultancy basis. I empower business owners and entrepreneurs to generate more leads and increase profits in their business using Instagram. 
My 1:1 packages start at £12,000 for a 9 month program or £1000 for a full-day support. I've helped clients across a range of industries get incredible results using paid advertising – most notably a 10,000% ROI for their advertising spend, turning £290 into £30,000 in just one month – those numbers even blow my mind!! Contact me directly here to find out more and set up a call. 
If you're not at that stage yet with your business, you can also buy the "InstaGalactic 2.0" program, which shows you how to build a Magnetic Brand on Instagram, attract thousands of highly engaged followers and convert your audience into paying clients and customers. The strategies in the InstaGalactic training program follow the EXACT 6-Step system that I used with my own accounts and helped us grow over 1/4Million Instagram followers in just 18 months. 
Don't need the full package? There are also a number of laser-focused training modules and products to improve your results on Instagram – from selling with Stories and LIVE video, to finding the perfect Hashtags for your niche, to making money on Instagram. You'll find these and many more by heading across to our "Courses" section. 
If you're happy with your Social game and instead you're looking for a high-quality, professional website to attract more customers, contact me here and I'll put you in touch with one of the best website teams I know (they built this magical site) 😉
.

This one is super simple. Before you buy anything on Amazon, use this link.

It won't cost you anything else, but Amazon will give me a 4-7% commission on whatever you spend on anything over the next 24 hours.
Good Karma and all that! 😉
.

There's a number of tools and online software that I use on a regular basis in my own business and recommend to clients as well. The list is pretty comprehensive (and continues to grow) along with the business. You can find the full list of recommendations by clicking here.

If you're setting up an online business (or have one running already) you're in a good place, because there's a lot of free software out there you can get started with. There are a couple of absolute essentials that you'll need to get started which do have a monthly recurring fee – but the good news it, there's only two of them. Here are the ones that I use in my own business and highly recommend to anyone who asks.
Clickfunnels is an essential tool for anyone who is taking their online business seriously. It provides the backbone for everything I do online. For me, Clickfunnels has multiple uses. From creating high quality landing pages (opt-in pages / squeeze pages – whichever terminology you prefer) allowing me to build my email database, sell products, deliver training and even host my membership site. And the best part – is all fully automated, so you really can set and forget!
Get a 14 day Free trial with Clickfunnels AND get a copy of my ready-made funnels here. These are the EXACT templates I use in my own business and have helped me generate 1000s of leads – all fully automated!

Where Clickfunnels is the body of the operation (responsible for creating the high quality funnels and compelling pages), Convertkit is undoubtedly the brains of the operation. Having tried and tested a number of email autoresponders, I can safely say ConvertKit is my absolute favourite! This allows you to run your full email marketing on auto-pilot. 
Excellent usability, powerful sequence and segmentation feature and an incredible support team – my favourite of all the software that I use!
Most importantly, ConvertKit has significantly higher delivery rates than the nearest competitors in this market – a clear favourite for ANY business who email their clients.
Take a look here for another free trial to get started.
.

Of course it always helps to send more people to this site any way you can.
If there's something that's been useful for you – a recent podcast episode, one of my blog posts, a video on YouTube or perhaps something in the InstaGalactic course. 
Whatever it is, I'd love it if you'd take the time to share this with someone who would find this useful for their own business. 
I've been learning this ongoing now since October 2016 and so anything you do to support the journey is greatly appreciated!
Free Download